2022 Incidents
Fire
EMS
Total
Jan
37
447
484
Feb
31
367
398
Mar
37
367
404
Apr
39
421
460
May
37
510
547
Jun
35
477
512
Jul
33
515
548
Aug
39
522
561
Sep
42
449
491
Oct
30
460
490
Nov
--
--
--
Dec
--
--
--
Total
360
4535
4895
Yearly Totals
Fire
EMS
Total
2022
--
--
--
2021
410
4,958
5,368
2020
429
4,325
4,754
2019
406
4,216
4,622
2018
394
3,832
4,226
Web Counters
Website Visitors
Since
June 11, 2018

Visitors Today
Dec 02, 2022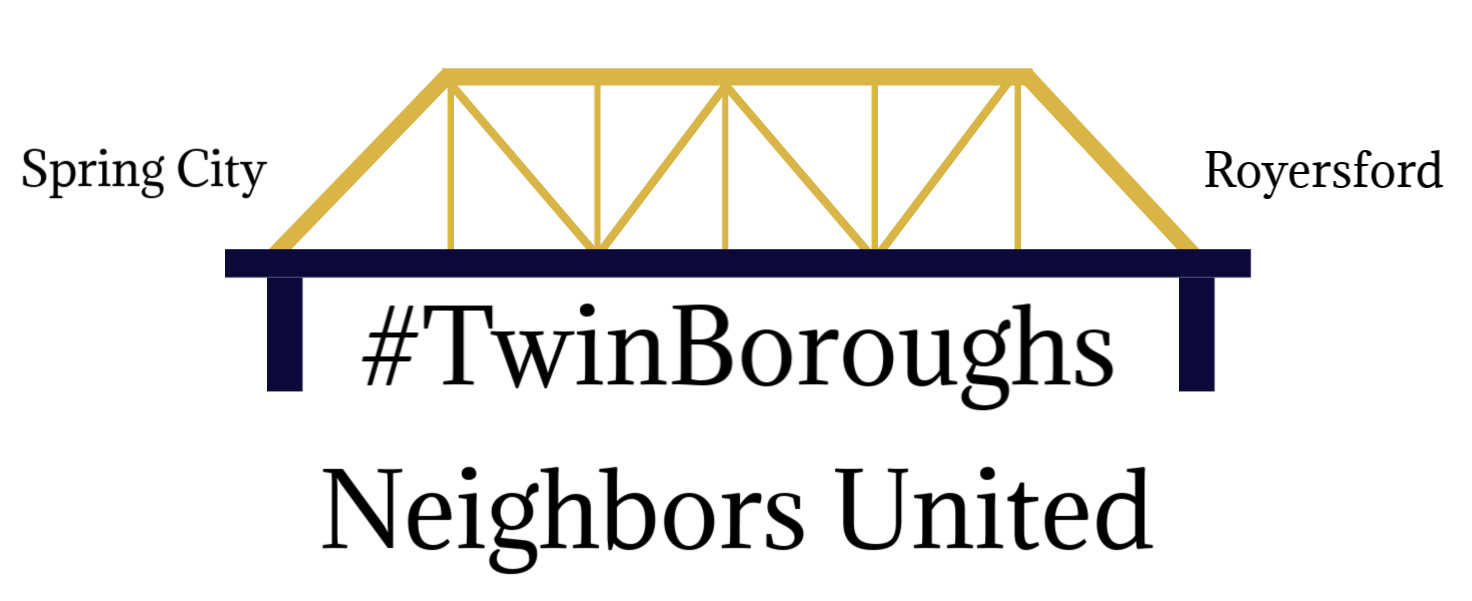 We are working to gather and provide you with all the resources available in our community.
Please check back often as we continue to update this page!
Your Way Home Emergency Rent & Utility Coalition Will Assist
Montgomery County Households Affected by COVID-19.
Applications open on September 8, 2020.
Beginning September 8, the Your Way Home Emergency Rent & Utility Coalition will provide households who have experienced a COVID-19 hardship, up to $1,500 per month in assistance for rental arrears and/or utility arrears dating back to March 1, 2020. A maximum of six months' worth of arrears may be awarded. Thus, eligible households may receive a maximum of $9,000 in rental or utility assistance to keep them safe and healthy in their homes.
Read more here!
Visit Your Way Home Montgomery County on Facebook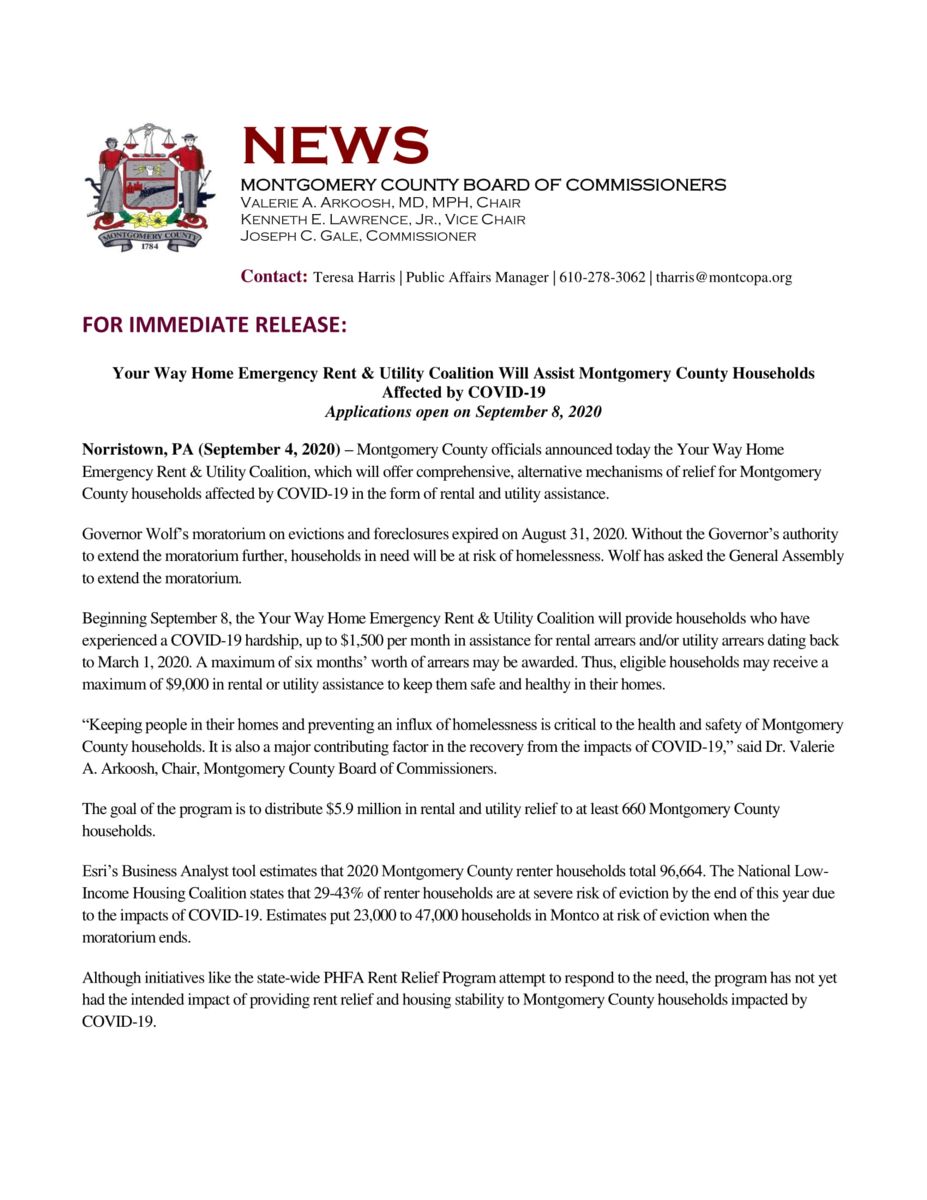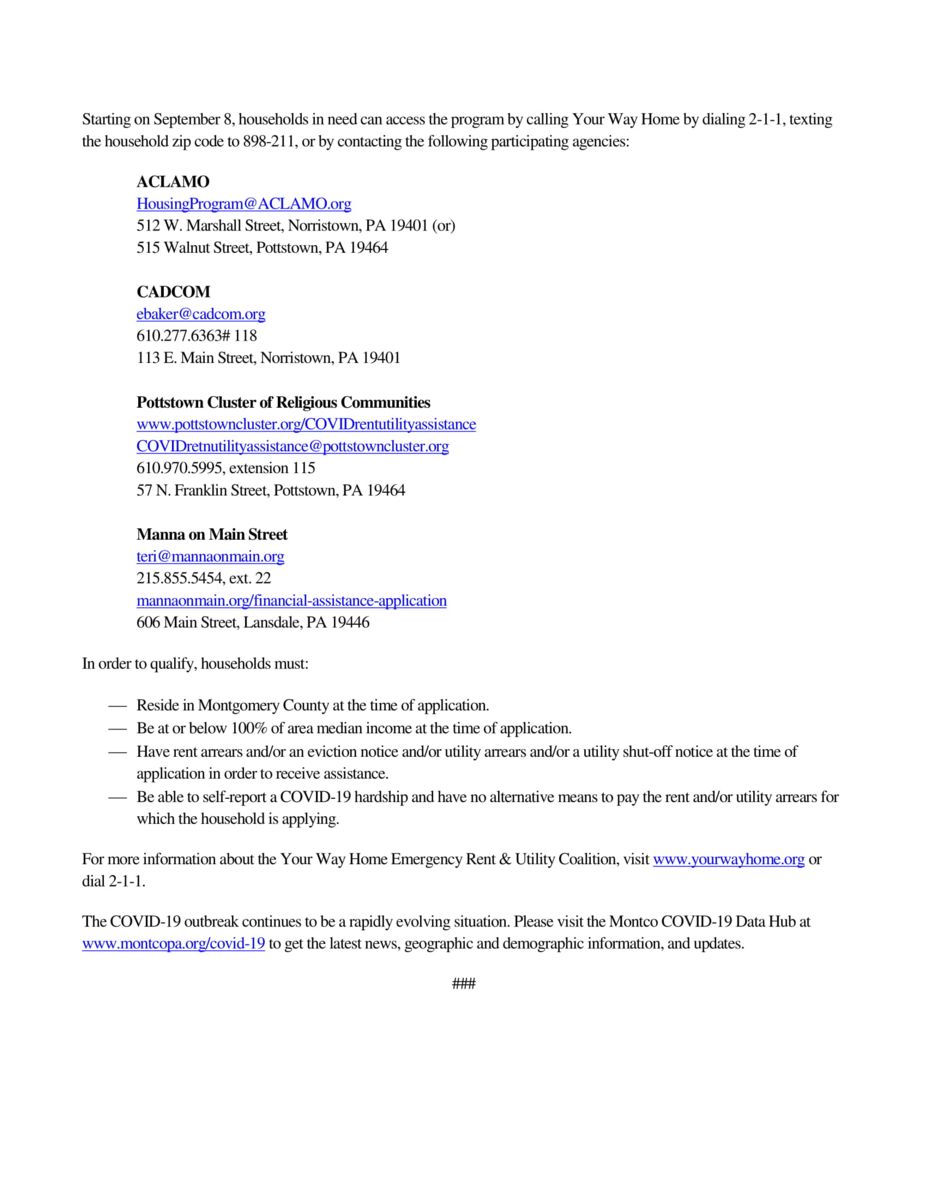 Download the Twin Borough Resource guide HERE!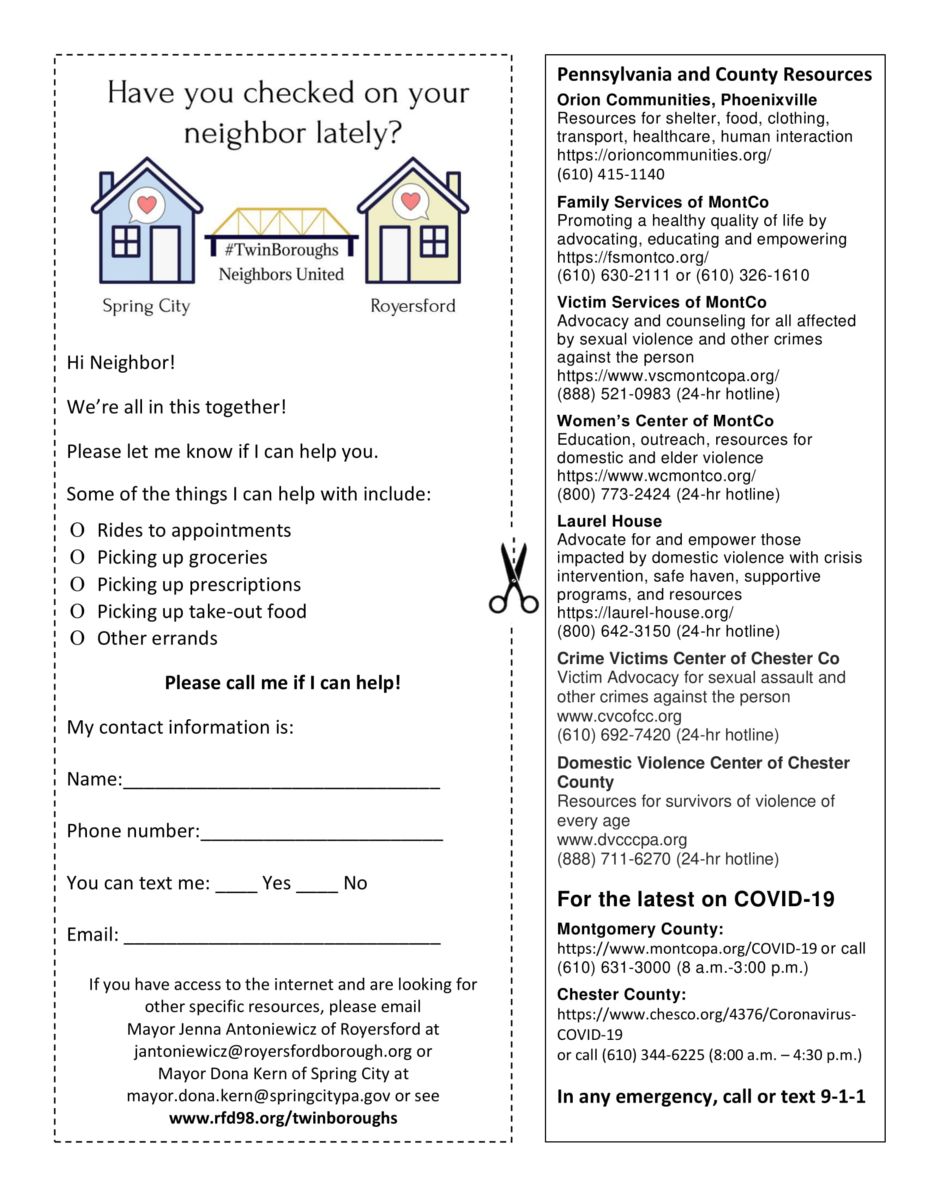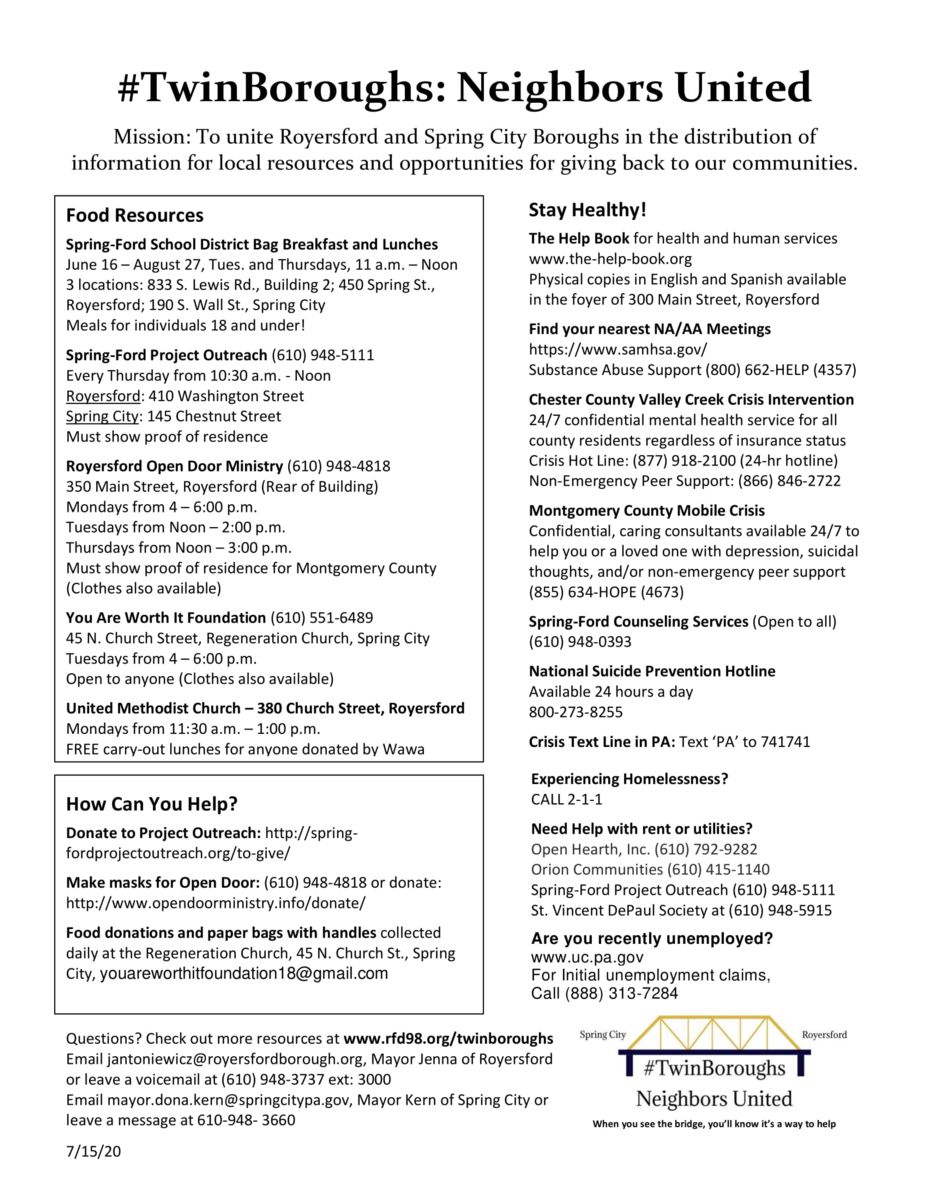 Below is a list of resources available in Montgomery & Chester Counties offering
a wide variety of assistance to everything from unemployment assistance
to food pantries to mental health support and counseling.
Unemployment Assistance

PA Office of Unemployment Compensation
www.uc.pa.gov
For initial unemployment claims, call (888) 313-7284

Montgomery County CareerLink
https://www.montcopa.org/2114/
PA-CareerLink-Montgomery-County

Chester County CareerLink
https://www.pacareerlinkchesco.org/

Open Door Ministry
Food pantry, clothing, & thrift shop
(Cloth masks available upon request)
350 Main Street, Royersford - Rear of the Building

Hours of Operation
Mondays: 4pm-6pm
Tuesdays: Noon-2pm
Thursdays: Noon-3pm
*Must show proof of Montgomery County residency*

http://www.opendoorministry.info/
Donate at: http://www.opendoorministry.info/donate/

Spring-Ford Project Outreach
Food pantry, aid with rent, utilities, & more
Two Locations:
410 Washington Street, Royersford
145 Chestnut Street, Spring City

Open every Thursday 10:30am-Noon
*Must show proof of residence*

http://spring-fordprojectoutreach.org/
Donate at: http://spring-fordprojectoutreach.org/to-give/

Spring-Ford Area School District
Bagged breakfast & lunches until August 27th
Meals for individuals 18 & under!

Three locations:
5/6/7 Grade Center
833 S. Lewis Road Building 2, Royersford
Royersford Elementary School
450 Spring Street, Royersford
Spring City Elementary School
190 S. Wall Street, Spring City

Tuesdays & Thursday 11am-Noon

United Methodist Church
Free carry-out lunches donated by Wawa

380 Church Street, Royersford

Mondays 11:30am-1pm

You Are Worth It Foundation
Food pantry & clothing. Open to anyone!
Drop non-perishable foods & paper bags with handles any day!

Regeneration Church
45 N. Church Street, Spring City

Tuesdays 4pm-6pm
Youareworthitfoundation18@gmail.com

Montco Anti-Hunger Network
Providing resources that help food pantries
feed more than 15,000 households a year

St. Vincent DePaul Society
Assistance with rent, fuel, utilities, food, & more...

Sacred Heart Church
838 Walnut Street, Royersford
(610) 948-5915

Donate by check payable to:
SVdP
Sacred Heart Church
PO Box 64
Royersford, PA 19468

Illumination Community Outreach

Hunger Relief, Clothing Security,
Essential Needs, Recovery Resources

Free Community dinner the last Friday
of every month at 5:30 p.m.
AND
free hot meal and clothing closet
the last Saturday of every month
from 12 - 3:00 p.m. both at
445 Washington Street, Royersford
(Royersford Nazarene)
Wellness & Family Resources

Royersford Free Public Library
Free workshops - Look under "Events" on their Facebook page!

200 S. 4th Avenue, Royersford

http://mnl.mclinc.org/bookmobile-and-branches/royersford/
https://www.facebook.com/royersfordfreepubliclibrary/

Crisis Text Line in PA
Text "PA" to 741741
https://www.crisistextline.org/

National Suicide Prevention Hotline
Available 24 hours a day
(800) 273-8255
https://suicidepreventionlifeline.org/

Prevent Suicide PA
https://www.preventsuicidepa.org/

Find your nearest NA/AA Meetings
https://www.samhsa.gov/
Substance Abuse Support Line
(800) 662-HELP (4357)

Veterans in Crisis
(800) 273-8255 and Press "1"
or Text 838255
https://www.veteranscrisisline.net/

The Help Book
A Health & Human Services Guide
https://www.the-help-book.org/
Physical copies in English & Spanish available
in the foyer of 300 Main Street, Royersford
(Borough Hall)

Experiencing Homelessness?
Call 2-1-1 for assistance
Resources located in Montgomery County

Brooke Glen Behavioral Hospital
Treating People. Supporting Families.

https://brookeglenhospital.com/
(800) 256-5300
Available 24 hours a day, 7 days a week.

Family Services of MontCo
Promoting a healthy of life by advocating,
educating, and empowering.

https://fsmontco.org/
(610) 630-2111 or (610) 326-1610

Laurel House
Advocate for and empower those impacted by
domestic violence with crisis intervention,
safe haven, supportive programs, & resources.

https://laurel-house.org/
(800) 642-3150 (24 hour hotline)

Make Masks Montco on Facebook
Need a cloth mask? Masking masks to donate?

Join their group on Facebook!
https://www.facebook.com/groups/149550683051188/

Montgomery County Emergency Services, Inc.
50 Beech Drive, Norristown
(610) 279-6100
http://www.mces.org/

Montgomery County
Department of Health & Human Services
https://www.montcopa.org/2783/Health-and-Human-Services

Montgomery County Mobile Crisis
Confidential, caring consultants available 24/7 to help you or a loved one with depression, suicidal thoughts, and/or non-emergency peer support

https://www.accessservices.org/
(855) 634-HOPE (4673)

NAMI Montgomery County
The National Alliance on Mental Illness
Montgomery County (NAMI MC) was established
in 1978 by five local families, seeking support to each other and to educate others about mental illness.

Services of Seniors
https://www.montcopa.org/148/Senior-Services

Spring-Ford Counseling Services
Open to all

https://www.springfordcounseling.org/
(610) 948-0393

Victim Services of MontCo
Advocacy & counseling for all affected by
sexual violence & other crimes against the person

https://www.victimservicescenter.org/
(888) 521-0983 (24 hour hotline)

Women's Center of MontCo
Education, outreach, resources for
domestic & elder violence

https://www.wcmontco.org/
(800) 773-2424 (24 hour hotline)

Resources located in Chester County

Chester Couty Valley Creek Crisis Intervention
24/7 confidential mental health service for all county residents regardless of insurance status

24-Hour Crisis Hotline: (877) 918-2100
Non-Emergency Peer Support: (866) 846-2722

Crime Victims Center of Chester County
Victim advocacy for sexual assault & other crimes against the person

https://www.cvcofcc.org/
(610) 692-7420 (24 hour hotline)

Domestic Violence Center of Chester County
Resources for survivors of violence of every age

https://www.dvcccpa.org/
(888) 711-6270 (24 hour hotline)

Open Hearth, Inc.
Ending the cycle of homelessness

https://www.openhearthinc.org/
(610) 792-9282
To donate: https://www.openhearthinc.org/donate/

Orion Communities, Phoenixville
Resources for shelter, food, clothing,
transport, healthcare, human interaction.

https://orioncommunities.org/
(610) 415-1140

People First
The premier provider of support coordiantion services

http://peoplefirstsc.org/
(855) PFSC-HELP